This is a review I originally wanted to do on my YT but could never bring myself to editing the video, and since a recent commenter suggested that I use some pictures I am going to try it here instead, let me know what you think. Today we take a look at the American Power Puff Girls versus the Japanese Power Puff Girls Z. Before we look at the story we are going to look at the girls themselves.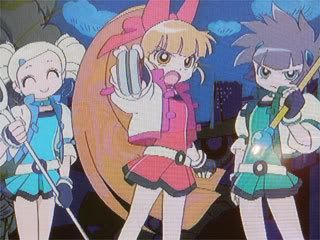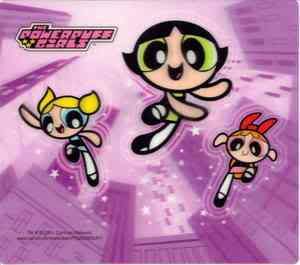 As you can see there are a few changes, first of all in Z the girls have fingers, as well they now have weapons, not sure why since they are supper powered girls but guess it makes some kinds of sense. The girls are in middle school so they look older and taller, besides that they look pretty damn similar not much to complain about.
Now let us examine the basic stories. In PPG Professor Utonium was trying to make the perfect little girls and accidently added a chemical he discovered calling it CHEMICAL X! AND THUS THE POWER PUFF GIRLS WERE BORN! USING THEIR ULTRA SUPER POWERS! BLOSSOM BUBBLES AND BUTTERCUP HAVE DEDICATED THEIR LIVES TO FIGHTING CRIME AND THE FORECES OF EVIL! (start the theme song). That was basically it, of course their arch enemy Mojo Jojo, was also created in the accident, when the chemical X got on his head and extremely increasing his brain power and intelligence, and causing him to forever seek revenge of the professor, the girls, and all of humanity.
In Z however, Professor Utonium and his son are working on Chemical X and nearly prefect it, until their robot dog accidently nudges in a very sugary treat, changing the substance form chemical x to chemical z, not sure why the sugar does this but whatever. When testing this new discovery with a weather device shit goes crazy, and as a giant iceberg is heading towards Townsville Jr. takes the risk and shoots it with Chemical Z releasing both white and black lights, scattering throughout the city, because balance ying yang and all that stuff. The dog gets zapped by the white light and becomes a real boy, as well do the girls. In this story the girls aren't sisters, Blossom comes out of a story eating sweats, going boy crazy then moving a little kid out of the way of the beam and touching the kids yo-yo in the process, she becomes a power puff girl and her weapon is a magic yo-yo; same thing with Bubbles and Buttercup, Bubbles with a bubble wand and Buttercup with a giant hammer. Like in the American version Mojo Jojo gets his powers at the same time, but then again so do all the villains here. Besides those changes the girls have to eat sweats to regain their power, and since they were changed with Z rays they are called Power Puff Girls Z! One more thing about the Japanese version is that they are proper super heroes with the professor calling them so they can henchin up and change into the power puff girls, and like I said though they are not sister in this version you never really see their respective families.
Now done to what matters, which version is better. Well asaid from the final episode of PPG I can say I have seen every single episode and for the most part liked the series, as for Z I have seen 26 episodes, and honestly tried to like it, but it must be the nostalgia but I like PPG better. Now I am not saying Z is bad though there are parts of it I didn't like, say for entrance their weapons. While I do like majority of the henchin shows out there I can't really say I like the fact the girls aren't sister or the fact they have to hide their identities. As a monster told the girls in PPG in a particual episode when they try and be actually old school super heroes (like wonder woman, spawn, and hello kitty for whatever reason) I believe he said "Even if you take away the costumes, the props and the angst. You still have all the bravery and courage it takes to save the day." That episode by the way is Super Zeros if you are wondering. To me PPG don't need secret identities, weapons, or anything else they are better the way there were born, nothing against Japan but in this case the American version is 10 times better.